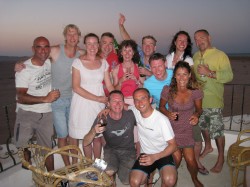 Coaching in sport is a necessity, not a luxury and not just for professionals. Not only is learning in general one of the most pleasurable challenges in life, it can also be one of the most frustrating. Christian and Karine's kitesurf coaching will help you enjoy your kiting even more, whatever your level. By building your confidence, focusing on your individual needs, speeding up the learning process and motivating you to try something new. You really will uncover your true potential and have a jolly good time along the way!
"Working together we have spent nearly 10 years developing and constantly evolving the way in which we coach kitesurfing. By mixing a heady blend of what we learn from our guests, considerable coaching, training and teaching experience from our former lives, with a phenomenal knowledge of all things kitesurfing, our obvious male vs female difference in outlook and understanding, a formidable Anglo-Franco alliance (read overly polite to European direct), and a hefty dose of fun, we offer you a truly unique style of coaching."
On a kite clinic, as well as giving you what you want, Christian and Karine will guide you through learning the fundamentals that they believe you need. At the same time they will teach you how to learn, and how to learn a move, not just how to do it. With two of them coaching on group courses, they guarantee you maximum input throughout the whole day. Even when the video is running, one of them is free to continue pointing you in the right direction.
Why:
Focuses on your individual needs
Speeds up the learning process
Increases your confidence
Motivates you to try something new
Uncovers your true potential
How:
Break down moves into understandable chunks
Demonstrate and guide you through what is achievable
Increase understanding of what is happening
Build awareness of equipment
Dedicated, intense but fun environment
For:
Competent beginners through to competition standard riders
Girls, boys, ladies and gents
Lacking in confidence, feeling the fear
Stuck on a plateau
If you want to see the light
What:
Unique personalised approach
Interactive simulation and demonstration
On water repetition, consolidation and feedback
Structured, progressive and tested methodology
Video Analysis