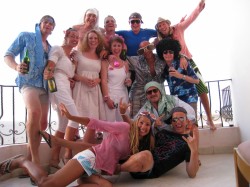 Experience a year's worth of learning in a six, ten or twelve day non-stop, intensive clinic in some of the best spots around the globe. We choose the locations for their suitability to coaching and wind probability.
Theses clinics are aimed at male and female kiters of all levels. From those who can readily water re-launch their kite and ride along (albeit not upwind), to those who are fully advanced in the sport but keen to progress even further! For our non UK resident guests we offer land only packages on many of our overseas trips, so that you can fly from anywhere to join us!
With this level of autonomy you are ready for a meteoric boost through Christian and Karine's coaching syllabus. The idea being either to help push you out of your comfort zone and encourage you into trying a few new tricks, or to add those chunks of knowledge necessary for the more gung-ho amongst you.
On and off water, the coaching is very much flexible and the emphasis is on customising it to your individual needs, enabling you to reach personal goals. There is no set order to learning, rather a flexible understanding, allowing you to work on your strengths and overcome your weaknesses. Each day you can start where you left off the day before. Our aim is to not only send you home a better kiter, but also give you the tools to consolidate and continue your progression once you're back at your local spot – pleasurable homework!
Through interactive analysis on the simulator, coaching on and off the water, demonstrations, manageable chunks of information and the trusty video camera you can rest assured that the next elusive move is but a step away. As an added bonus the fact that you're on holiday and sharing the good times in a group environment will prove both motivating and fun.
Why:
Focuses on your individual needs
Speeds up the learning process
Increases your confidence
Motivates you to try something new
Uncovers your true potential
How:
Break down moves into understandable chunks
Demonstrate and guide you through what is achievable
Increase understanding of what is happening
Build awareness of equipment
Dedicated, intense but fun environment
For:
Competent beginners through to competition standard riders
Girls, boys, ladies and gents
Lacking in confidence, feeling the fear
Stuck on a plateau
If you want to see the light
What:
Unique personalised approach
Interactive simulation and demonstration
On water repetition, consolidation and feedback
Structured, progressive and tested methodology
Video Analysis