Sri Lanka, what can we say without setting your kiting expectations too high. It is our personal favourite, a perfect mix of relaxation and kiting, zero stress in an environment where you really feel far away from the hum drum of hectic life, living on a beach surrounded by jungle, yet only 2 hours from the airport. Every year we return home turbo charged, healthy and ready for anything – it's the closest we'll ever get to kiting Zen, but it's definitely our kiting Nirvana. The North West coast is a wind machine, day and night it blows, as the prevailing winds squeeze under India they accelerate to healthy proportions. Early season is strongest, which wonderfully coincides with our Sri Lanka Kite Clinics and coaching holidays, so 7s and 9s are pretty much the norm, although last year did the 12s made it out too. Here's a clue: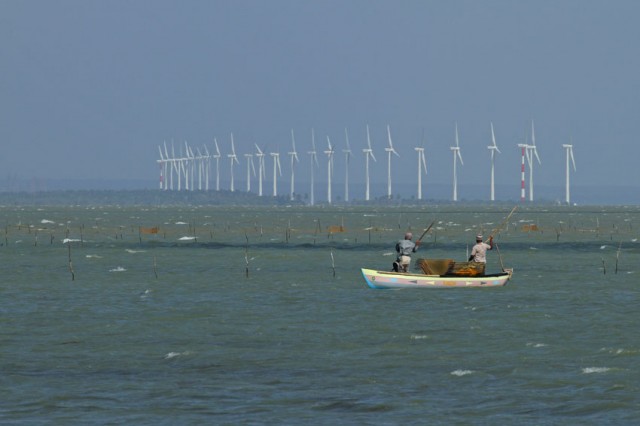 As if the wind isn't enough of a reason to go, it's a great opportunity for those of you living on the far side of the world to come and join us on a clinic without the obligatory 2 days of travelling and the rather sport unfriendly confusion between mid day and mid night!
Accommodation
We'll be staying at the Kappaldy camp.  You'll be close to nature with only the stars, wind and waves for company. There is a choice between ground floor semi open standard rooms, raised tower rooms, or newly built for the 2017 season Delux Chalets. Each room has it's own bathroom. All meals are provided, and as a group we'll be eating together, enjoying amazing buffet lunch and dinner spreads. The one splendid contradiction to all this simple life is the wifi connection, which of course you don't need to let anyone back at the office aware of. From our own personal experience there aren't many places where we've felt so utterly relaxed. All the accommodation is within walking distance of the lagoon we use for kiting, so for the extremely fit, motivated or obsessed amongst you, there is no limit to the amount of time that you could put in on the water. The camp is max 10 minutes walk along the beach from the butter flat lagoon that we'll be spending most or all of our time on, and a couple of minutes or so over the dunes to the sea. Due to limited accommodation all Deluxe rooms will need to be shared between two, no single option! However the basic Superior and Delux rooms in camp can be sold as singles.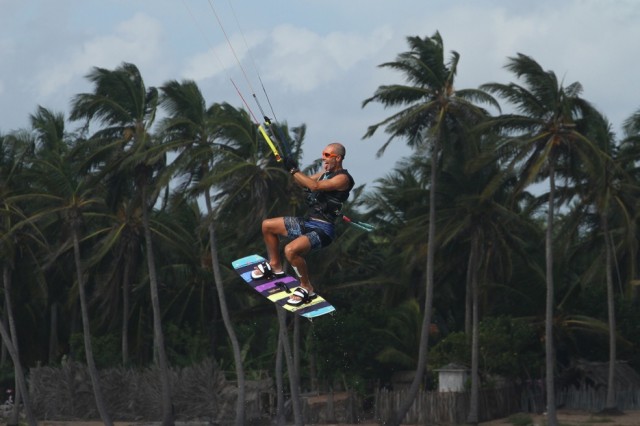 Kiting & Clinic
We'll be whooping, hollering and cracking the whip with a full on 6 days of coaching on this trip. As always we'll encourage you to pace yourselves, it is a holiday after all, but we'll be coaching morning and afternoons from Sunday through to Saturday, so if you get a move on you'll even have time for a quick cobweb duster when you arrive in the afternoon. The vast majority of our time will be spent in, around and above the butter flat salt water lagoon just upwind of the camp. This is an epic spot, deep enough to be safe, yet enclosed and friendly enough to inspire you to new heights.The further upwind you go the shallower it gets and the further downwind you go from the "trick pool" the more space you'll have to yourself. Space is not an issue though, as all the other schools and clubs are based a good 45 minutes up the road on a different lagoon. Just across the sandbar is the Indian Ocean which throws up a decent enough shore break for some carving and lip smacking should you be so inclined. And further out to see there's a crumbling reef should you feel adventurous and the desire to leave the confines of the lagoon and the punch of the shore break. As a result we can coach pretty much everything here. So if you're just getting to grips with upwind, want to improve your jumps, add rotations, pull the trigger on some kiteloops, unhook for some freestyle glory, this is the place. It's also a fantastic place to hone your surfboard skills, offering you the opportunity to learn and practice skills on the flat before taking them out to conquer the high seas.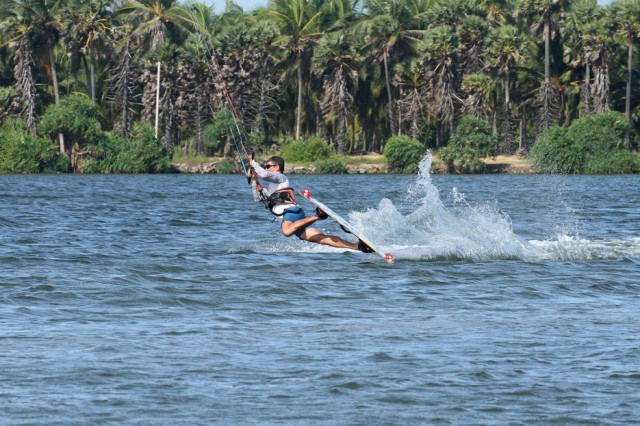 How does it work?
Land based package, 7 nights based on two sharing, including all meals and 6 days CKPerformance coaching. Arrive Sunday 18th of June. Depart Sunday 25th June. 6 day clinic runs Sunday 19th to Saturday 24th June inclusive.
Deux Room £789pp
Singles from £620
Deposit of £350pp to book your spot.
Direct flights from Heathrow to Colombo, departing Friday night and getting you back for the following Sunday evening from £480 (at time of writing), including 30kg baggage allowance. Only extras are visa ($30), 2 to 2.5 hour transfer from Colombo to camp approx £55 per large taxi, and drinks. Contact us for flight options, accommodation and coaching.