Picture this – Jump on a direct flight from Heathrow, Friday night. Get your head down for some shut eye, wake up fresh as a daisy in Cape Town on Saturday morning with barely any time difference, where it's summer. Drop your bag off in Langebaan before heading out onto the turquoise waters of the lagoon with us for the afternoon, to warm up for seven days of coaching starting on Sunday. All this whilst your nearest and dearest scrape the ice off their windscreens and queue at Tesco. Last blast the following Sunday morning before hot tailing it back to Cape Town, getting back onto a direct flight, home in time (ish) for work on Monday. You'll have kited 8 days, had a swift 5 days off work, put some colour back into those cheeks and learnt loads! And we haven't even started to talk about food, the stunning beachfront accommodation and of course what a jolly old time we'll all be having. You're not dreaming, it is the reality of our Langebaan South Africa Clinic.
The Spot
Just 1 hour north of Cape Town, Langebaan, an idyllic seaside town, has long had a reputation for its stunning scenery, breathtaking colours and amazing kitesurfing. We'll be kiting mainly off town beach, which is a short walk, or very short drive from Friday Island, and wind permitting at the spot in the lagoon known as Shark Bay (where there aren't any), which is nestled in the West Coast National Park. The lagoon itself is huge, the wind blows cross to cross-on here, the water is shallow and the bottom is sandy. Another plus is that the lagoon is a lot warmer than the Atlantic so pushing it you can sort of get away with a shorty. Town beach the wind blows cross shore, but the water is cooler, so a long spring or winter suit is probably best. The water is however warmer than down in Cape town. Wind stats for their summer are impressive. And even if there isn't wind in the lagoon, or even Cape Town there is a very good chance of the rather remarkable thermal venturi on the beach.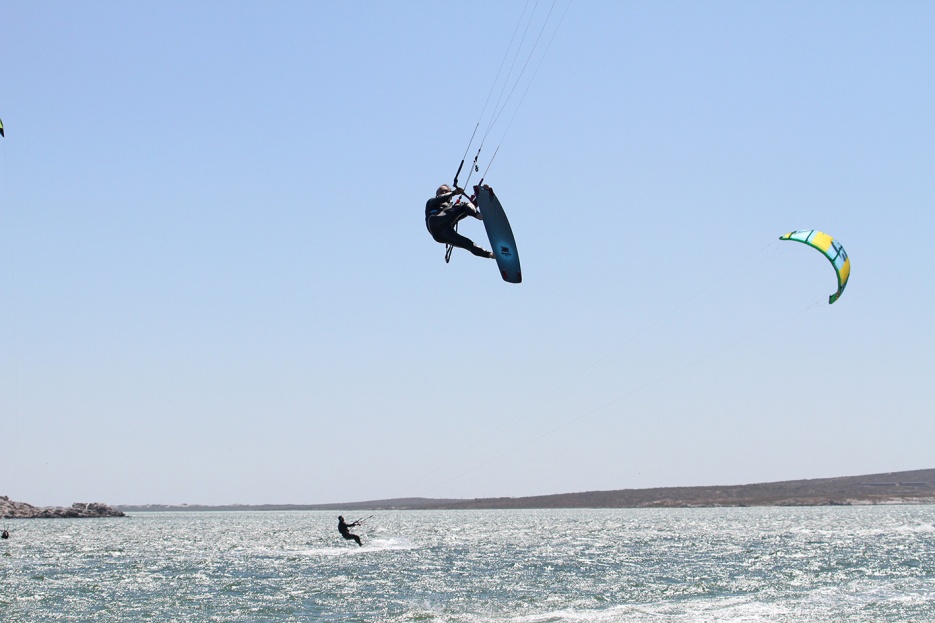 Where we'll be staying
Home for the trip with be Friday Island. Situated in Langebaan, on the beach with direct views over the lagoon, just 10 minutes from Shark Bay – so you can always nip back if should you whish. It's also the perfect place to enjoy a sun downer or two whilst sharing the buzz of the day. There's the choice between sea view and court yard rooms, and they are all kitted out so that you can be self sufficient with fridges and ketteles etc.. That said if you prefer, you can enjoying breakfast on the deck restaurant whilst listening to the water lapping up against the beach.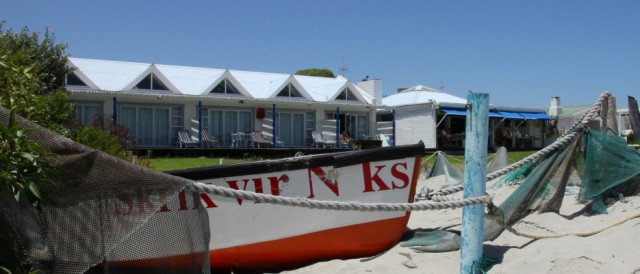 The Clinic
On the kitesurf coaching front you'll have seven full days of coaching. This clinic is aimed primarily at twin tip techniques and tricks, but if you've got a surfboard and you're not quite sure how to use it, bring it along as the flat water will be a great training ground to tame it. We've got a box full of modules from improving upwind technique, through anything airtime, transitions, rotations, kiteloops, pop and raileys, and even handlepasses. As always the group atmosphere will no doubt spur you on, along with simulation, the trusty video and masses of on water coaching from us two. Even though we'll be busy on the water, as always you're welcome to bring non- kitesurfing wives, husbands and partners. There is loads to do around this area, from the wine routes, all the watersports you can imagine, hiking, mountain biking, horse riding, golf, nature reserves – the list goes on…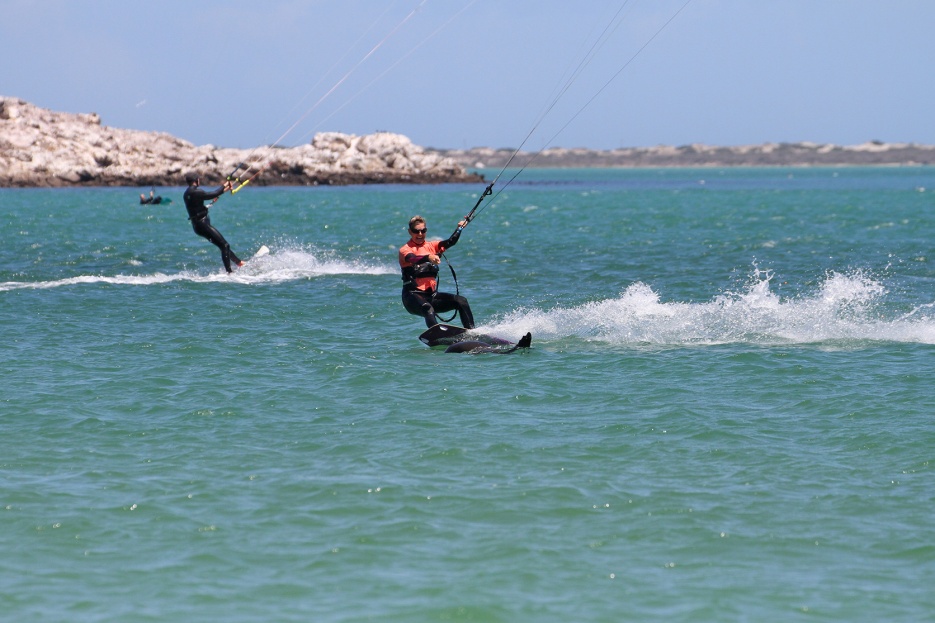 Cost
The land based price for 8 nights accomodation, based on 2 sharing a courtyard room, along with 7 days CKperformance clinic is £650 per person.  We also have beach facing sea view rooms and single supplement is possible depending on availability.
Getting there
From the UK – If you've amassed air miles BA could be good for you. BA flights leave Heathrow late evening on Friday, and you'll arrive Saturday morning. For the return you'll depart Cape Town Sunday evening and be back in Heathrow the following morning. Contact us for flight suggestions.
Extras
Food! Meals are not included, but breakfast at Friday Island will set you back between £3 and £5. The beauty is all the rooms are equipped for basic self catering and it's easy to stock up at the supermarket if you'd prefer to have your coffee and muesli in bed! Evening meals in Langebaan range from £6 upwards, so there is something for every budget. Braais (BBQ) are legendary here, so the odd evening braai will be a must too. If you like you're seafood you'll be more than catered for. If you're not mad on fish, or like a bit of variety you're probably aware that South Africans are also renowned for their love of good meat, so its win win. Transport. Getting around requires wheels, so car hire is a must. Prices start from £15 per day, and we can organise sharing.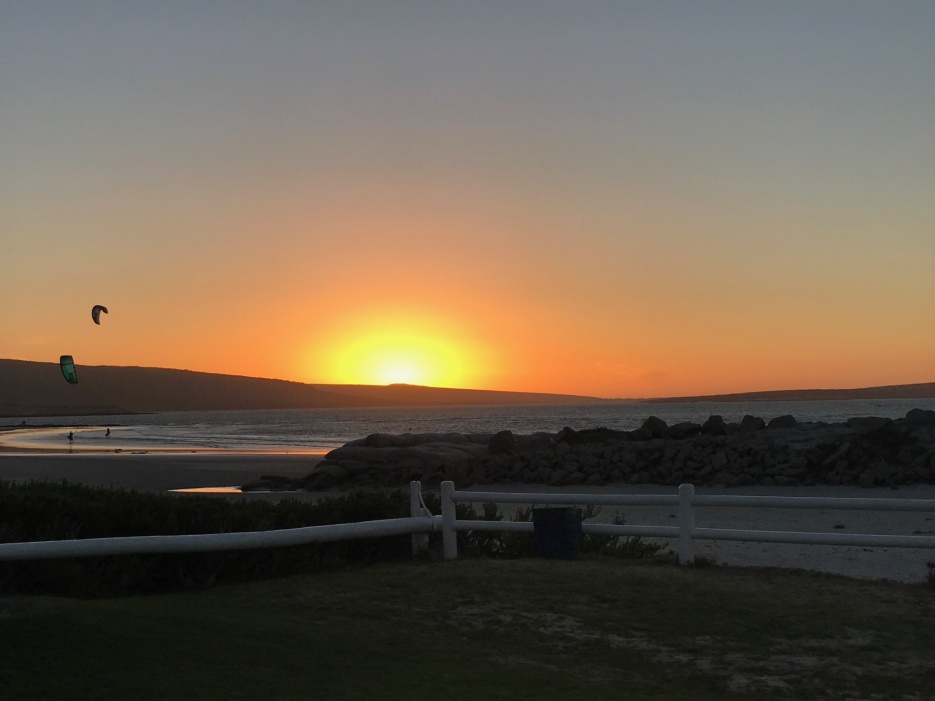 How to Book
If this sounds tempting, and you fancy escaping the Northern Hemisphere's winter at its worst, then get in touch asap via e-mail or call on +44 7729 183233 to book your place. Places are limited, so as usual its first come, first served. A £300 deposit will be required to secure your place. Balance to be paid 8 weeks before departure.