The good news for these trips is a proper double jackpot, at least if you're based in the UK. First off we're making the most of Bank Holidays, which means that for the first clinic you'll get 8 days whilst only having to miss 4 days in the office, up a tree, behind the wheel or in front of a screen. The same holds true for clinic number two, shorter, slightly cheaper but also only costing you 4 days holiday:)
If that isn't already enough to have you racing to reply, the flights have remained as last year, so there's no need for an overnight stop-over either on the way there or the return, as you can now spend your last night in Dakhla Attitude and take the plane back home early the next morning:) In short you leave home on either Good Friday or Sunday and arrive in Dakhla the same day, and it's the same on the way back – boom.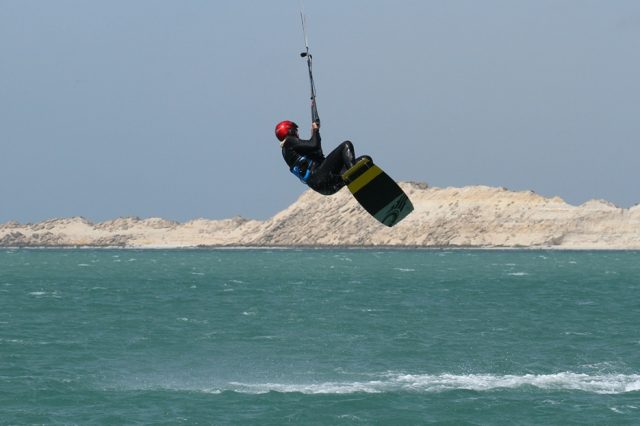 It's always good to return to Dakhla, we've had a lot fun there with a lot of you in the past. The ambience is like nowhere else, tucked away in the sand dunes, the stars at night mind blowing, the sunsets mesmerising, the quiet dawn so magical and then there's the top draw kiting, the mixture of amazing spots ranging from butter flat to waves, the dolphins, the wind stats, we could go on – it's a special place for sure and there's more to do than you'd think, with the Dune Blanche, Asnaa and the wonderful Oyster Farm outing. It's a very convivial atmosphere staying here so we're guaranteed a good social as well as plenty of fun on the water, especially if Abdo is serving at the bar!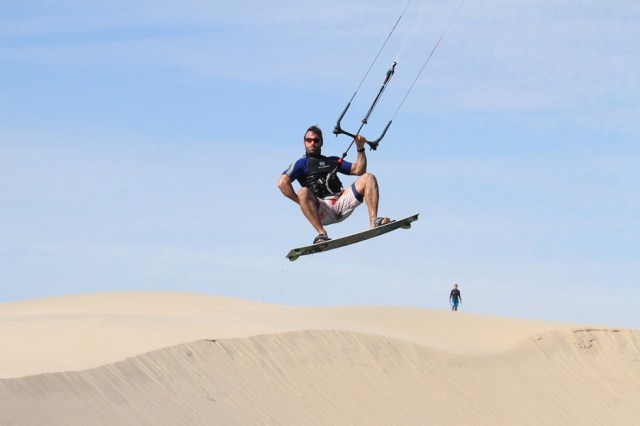 As always we'll be staying at Dakhla Attitude, where you'll be able to enjoy their perfect hospitality. Accommodation will be in the Dragon Camp, single and twin bungalows with private bathrooms which are sandwiched between the kite centre and the restaurant so no long walks. If you're feeling flush or romantic they also offer VIP upgrades. Accommodation is full board, so 3 meals each day in the restaurant.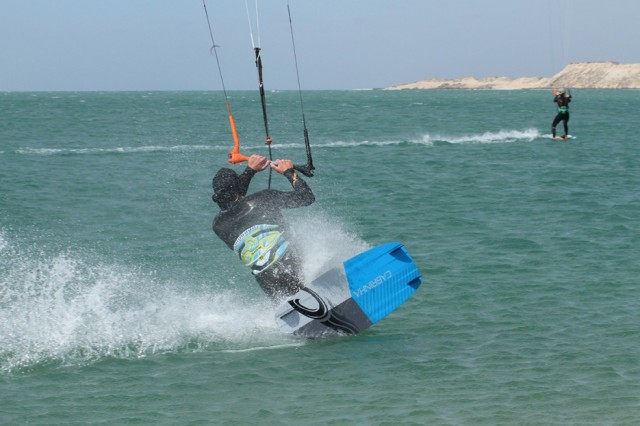 As well as the main lagoon in front of Dakhla Attitude we'll be making the most of the much-loved Speed Spot, kilometers of super flat but safely deep water. Coaching will be the everything twin tip and flat water surfboard, plenty of on water whipping, a bit of simulator and oodles of video. Minimum level required is to be able to water relaunch your kite, upwind body drag, and get up and ride.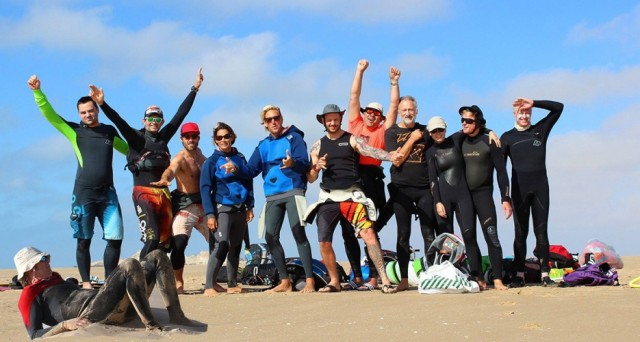 How it works
The plan is that you'll fly out on Sunday the 28th of May, the clinic runs from Monday the 29th of May until the Saturday the 3rd of June, so 6 days coaching and 7 nights, as you'll then leave Sunday the 4th.
The most direct route flights are available from travel agents from £350 return from the UK at the moment. That's including 23kg hold luggage and a 23kg board bag (dims 220 x 40 x 40) free of charge.
If you're coming from elsewhere please contact us and we can discuss options.
Cost
Including full board accommodation in Dragon Camp Bungalow, airport transfers and coaching based on two sharing.
Dragon Camp bungalow based on 2 sharing:
7 nights full board, 6 days coaching £945 per person
Single depending on availability £1125
Please note that Dakhla Attitude charges each guest 60€ a week for their activity pack. This includes your station fee, trips and most importantly for us the speed spot.
Contact us for recommended flights. Only extras are beverages from the bar, any spa treatment and extra restaurant offers should you desire.
To book we'll need a £350 deposit and you'll need to book your flight.